Awesome domaining tool
Managing of large domain portfolios should be fun with ease. Just concentrate on the things, you are really good at: your core business.
Simply use valuable and proven tools to facilitate your daily work with and on domain names and do not worry about all the little things that waste your money and time.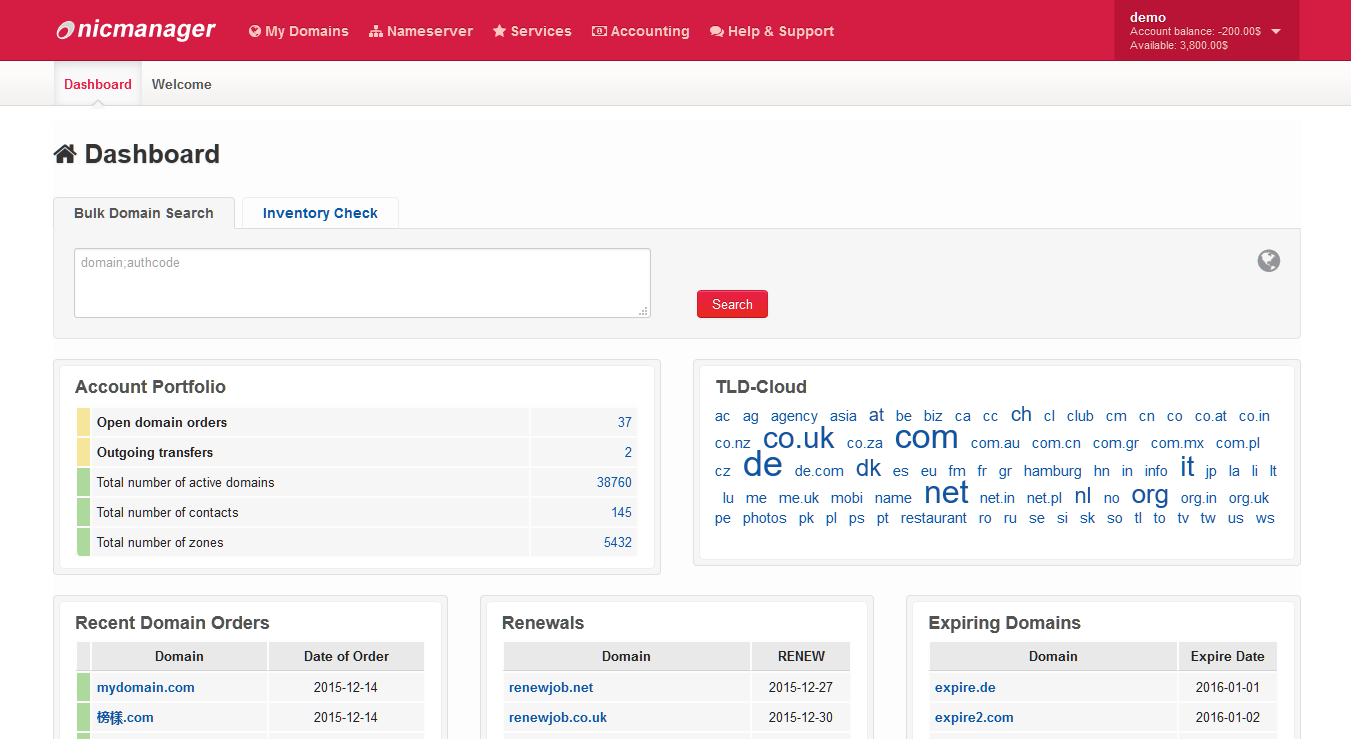 Domains around the world
You can register and transfer almost every available Top Level Domain in the world with just one easy to use interface.
Dozens of useful features
Managing big domain portfolios shouldn't be a hassle. Single and bulk actions make it easy to tag your domains, search and export domain lists.
Rock-Bottom Prices
We know the price-sensitive domain market and offer lowest prices for your portfolio. We make you an offer that you can not refuse.
Save your precious time
The most efficient tools to work on and with domain names.
Awesome with ease
Who has to register, transfer and manage domain names, does not want to waste money or time. Following the slogan: "each click counts", our user interfaces and processes are optimized and simply ingenious.
Wanna have an example? How many clicks does it normally take you, to register a bunch of domain names, including domain check and using your standard contact and DNS settings.? Can you beat 2-clicks?
Innovative Features for domain professionals
You'll wonder how you ever managed domains without them.
Made by domainers for domainers
We know the challenges, that domains are confronted with day by day. nicmanager is more than 10 years domain industry experience, hundreds of feature requests and more than 10,000 hours of software development.
Our goal is, to make your business as easy, as effective and as powerful as it never has been before.
Let's write a success story together!
Personal assistance treated in confidence
We are interested in a long-term and growing partnership with you.
As a part of the domain industry, we are able to offer personal support in developing and implementing a domain or consolidation strategy. And, of course, we provide professional domain transfer services as well.
Based on confidentiality, we can agree individual service levels, even to secure domains for investors with special authority.
Testimonials
nicmanager is the domain management tool of our choice. No other interface is as simple, as fast and as intuitive for the management of large domain portfolios.
nicmanager is a great platform, very easy to use and has good client Service 24/7. I recommend it to all.